Aight, First off let me say somethin!
The mega dope contest will close next monday and no one has found the exact tracklisting yet! So keep sending them emails to Blaze cause you might still have a shot to win that dope EP from my man Spag Cynophilik!
Now I've been checking the net lately, and shit, how many blogs are out there?? like a fuckin million or what?? Aight so that's nice there's people trying to share music and shit, trying to push that hiphop music that we like in the right direction. But come one, it's like a virus now! I guess it all started when my man smoov started VA, shit got some luv and then bim! blogs comin out of everywhere. So I'm checking some of them, maybee i'll hear something fat you know, cause everytime i see a new post i can read "mad dope ish!", "super fat!", "this is the shit!", hahaha come on dudes, let's be realistic here, not every single record is the "fucking mega dope shit!!". Off course everyone entitled to his own opinion about what's dope and what's not, but if you say everything is dope and I check a couple tracks and don't hear anything dope then i won't check anything else from your blog.
Another thing, what the fuck is is with just posting a picture of the record and a fucking link!!! Dude please try to add something here, and honestly if you drop some shamus record, or natural element or hi tech or whatever not so rare record, it's on soulseek!!!(and in my crates) I don't need your blog to hear this ish, so please add some insight! I might not like all that Smoov post for example, but at least VA explains why they think the record is nice. Big up to you for that. Big up also to my man Slurg for the fat insights everytime he reviews a record, check out his new ish press rewind (link's in the ... link section). A review is not "yo this shit's mad nice with the jazzy vibe, enjoy!" naaaaahhhh!!!
Don't even get me started with dudes actually posting mp3s that they did get on soulseek, when they actually don't have the record, and then they post nothing but a link, hahaha, pure comedy! Is there a contest for some e-cred goin on here? This reminds me of that other guy who was trading mp3s like that shit was actually rare and worth something hahaha bitch fuck you.
Next up is myspace, fuck this shit! a fucking wolrd of hypocrits. The other day I was chillin there, checkin some pages, (read: checking random bitches pages) when i receive a friend notification from none other than that ugly bitch Fergie. Yeah that fake hot bitch from that fake rap group BEP. Am i really supposed to think that she actually cheked our page, even went and check what we do and enjoyed it?? I mean fuck is this only about marketing your product, about having the fattest friend list so you can post more advertisement later? Well of course it is, what was I thinking. For a minute I thought this was about the music, liking what other people do and connect with other artists or fans in the same mindstate as yours. But I was on another fucking planet the day I thought myspace may actually be a good idea. Big up to Apany for actually checking out our page and the intro that Blaze upped in here, you have our support!!!
If you want to check our page (if you find it) and send us a friend request so we can hear what you do or like, please do so. But you might want to drop us a message first, cause we've been tired of that ish, where people just randomly want to be on our friend list. You end up checking pages where french dudes try to immitate crunk music, with no rhymes, no double time, no nothing, straight wackness!!!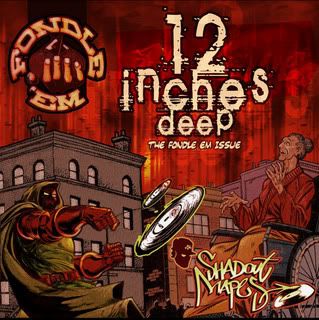 Aight now, let's get down to business and what we're actually here for. Them mixes!!!
I don't have a lot of time these days, so I treat you with some old ish. This is a mix that actually came out. Thanks to everyone who did carry this (even ughh, when you bootlegged it straight after receivin it).
this is the 12 Inches Deep Fondle'em issue, this shit was approuved by bobbito himself!! ya better recognize!!! (hahaha)
Shadout Mapes - 12 Inches Deep Fondle'em Issue:
1. Intro
2. Cage "Mersh"
3. Mhz "Camu"
4. Cage "Radiohead"
5. Siah "Pyrite"
6. Scienz of Life "The Anthem"
7. J-Treds "Make it happen"
8. Mr. Live "Supadupa"
9. Cloudkickers ft. Cage "And so kiddies"
10. Y@k Ballz "The plague"
11. Godfather Don ft. Bobitto "Keep on"
12. MF Grimm "Landslide Remix"
13. Jakki Damotamouth "The chosen"
14. MF Doom "Go with the flow raw mix"
15. KMD "Q3"
16. Siah & Yeshua DapoED "A day like no other"
17. KMD "Popcorn"
18. The Boulevard Connection ft. Promoe "Denmark style"
19. Godfather Don & Kool Keith "Mommy"
20. The Juggaknots "Troubleman"
21. Rok One ft. Shabaam Sadeeq, Kwest & L-Fudge "Ninety degrees a piece"
I still have some real copies of this mix cd available for those of you who would like to support what we do, for 10€ i'll send this wherever you are. so contact me if you are interested. I'm still givin this away for free but fuck it!
One love to Calaloo who did the fat fat cover!
Like cage said on mersh "this world's a commercial I can't change the channel everyday tryin to kill it but i have no ammo!"
Fuck the world!